Hi, everyone! I am here today to share a card I created for the Lawn Fawnatics Challenge. This challenge is encouraging you to create a holiday card with critters as your focus! There are so many fun sets from Lawn Fawn that you could use for a variety of different cards. I created a fun, beachy, holiday card.
If you love Lawn Fawn you should definitely follow us on that site– we have a fabulous team that offers inspiration and chances to win gift certificates to Lawn Fawn!
Before I share my card with you, I just wanted to remind you that my next online class, Snowball Fight is coming up soon, and I have other fun holiday card classes you can take as well. Find all the details for all my online classes here.
I hope you will join me!
Don't want to miss out on other fun announcements, be sure to subscribe to my email newsletter. I am already planning fun things for 2023, and you won't want to miss out!
Alright, now to the fun card I have to share with you-
Cozy Holiday Season, Lawn Fawnatics
For this card, I combined the new Ugly & Bright stamp set with previously released sets On The Beach, Life Is Good, and Baaah Humbug.
I stamped out the images with Lawn Fawn Jet Black ink, on Lawn Fawn white cardstock which is Neenah Classic Crest 80 LB Smooth Solar White Paper, colored them with Copic markers, and then die-cut them out. The beach, I stamped with Doe Lawn Fawn ink. I stamped the candy cane with Kitsch Flamingo Distress Oxide. I die cut the letters "Cozy" with Henry's ABCs and colored them and ombre with Copic R35, RV13, RV21. You can see all the Copic markers I used for coloring below, and they are all linked to shopping at the bottom of this post.
I created the background by die-cutting the largest stitched rectangle from the Outside In Stitched Rectangle set out of Distress Watercolor Cardstock, on the textured side. I then used the Snowflake Background stencils and ink blended with Salvaged Patina Distress Oxide. I used an ink blending tool and domed foam since I was using Distress Oxide ink. As always when I use stencils I use the Make Art Stay-tion and whenever I am ink blending I love to use the Ink Stands to hold my ink pads,
Next, I glittered all of the things, by adding Prisma glitter with a Quickie Glue Pen as a sparkle detail on all of the images. For the string of lights, I used Glossy Accents and added Prisma glitter so that they would be dimensional and "bulb-like". For the snowflake on the bear's sweater, and the bottoms of the "cozy" letters I added Chunky Glitter using the Lawn Fawn Glue Tube.
I then stamped the rest of the sentiment in Lobster Lawn Fawn Ink (the *perfect* red) and cut it into strips. I then assembled the beachy holiday scene using foam squares, foam strips, and a glue tube. I matted the whole card onto Chili Pepper Lawn Fawn cardstock. Loving the teal, pink and red combo!
I hope you find this card inspiring, and that you join us in the challenge! You could win a $50 Gift Certificate from Lawn Fawn!!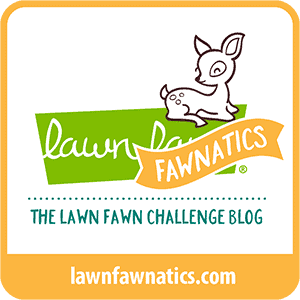 Join us!
We host a new challenge every 2 weeks. We randomly pick a winner so really ANYONE can win! You just need to follow the theme and use at least one Lawn Fawn product. You do not need to have a blog to enter, you can upload your project to Instagram, Facebook, or even Flicker- just be sure that it is public!
Be sure to pop on over to Lawn Fawnatics site and check out all the other inspiration from the rest of the design team!
Supplies Used
Supplies I used are linked throughout the post. Click on the product name and you will be taken to the product. I use affiliate links when available which means if you make a purchase I get a small commission at no extra cost to you. Thank you for your support!

Lawn Fawn, Ugly & Bright
Shop at:
LF

Lawn Fawn, Baaah Humbug
Shop at:
SSS | LF

Lawn Fawn, On The Beach
Shop at:
SSS | LF

Lawn Fawn Life Is Good Clear Stamps
Shop at:
SSS | LF

Lawn Fawn, Henry's ABCs
Shop at:
SSS | LF

Lawn Fawn, Snowflake Background Stencils
Shop at:
SSS | LF

Lawn Fawn, Outside In Stitched Rectangle Stackables
Shop at:
SSS | LF

HoneyBee Stamps, Bee Creative Bitty Buzz Cutter – Die Cutting Machine
Shop at:
HB

Wendy Vecchi, 7 inch Stay-tion
Shop at:
SSS | shurkus | R

The Ink Stand, square
Shop at:
shurkus

Tim Holtz/Ranger Ink, Salvaged Patina Distress Oxide
Shop at:
SSS | LF | R

Lawn Fawn, 80# White 8.5 x 11 Inch Cardstock
Shop at:
SSS | shurkus | LF

Lawn Fawn, Jet Black Premium Ink Pad
Shop at:
SSS | shurkus | LF

Lawn Fawn, Lobster Dye Ink Pad
Shop at:
SSS | LF

Tim Holtz, Distress Watercolor Cardstock 8.5 x 11
Shop at:
SSS | shurkus | R

Tim Holtz/Ranger Ink, Kitsch Flamingo Distress Oxide
Shop at:
SSS | LF | R

Lawn Fawn, Chili Pepper Cardstock
Shop at:
SSS | LF

Ranger Ink, Mini Domed Ink Blending Foam
Shop at:
SSS | LF | R

Ranger Mini Round Ink Blending Tools Ibt40965
Shop at:
SSS | LF | R

Scrapbook Adhesives, mixed white foam squares
Shop at:
shurkus

Ranger Glossy Accents
Shop at:
SSS | shurkus | R

Lawn Fawn Prisma Glitter
Shop at:
SSS | shurkus | LF

Sakura, Quickie Glue Pen
Shop at:
SSS | shurkus | LF

Scrapbook Adhesives, White Foam Strips
Shop at:
shurkus

Ranger, 2oz Mister
Shop at:
SSS | R

99% Isopropyl Alcohol
Shop at:
Misc

Lawn Fawn, Doe Ink Pad
Shop at:
SSS | LF

Lawn Fawn, Chunky Glitter
Shop at:
SSS | shurkus | LF

Lawn Fawn Glue Tube
Shop at:
SSS | shurkus | LF

Fiskars Microtip Scissors
Shop at:
SSS | shurkus

3M Scotch PINK ATG ADVANCED TAPE GLIDER 0.25 Inch Adhesive Glue Gun
Shop at:
SSS

Flour Sack Cloths
Shop at:
Misc

E37, Sepia Copic Sketch Marker
Shop at:
SSS | BA

E37, Sepia Copic Original Marker
Shop at:
BA

BG32, Aqua Mint Copic Original Marker
Shop at:
BA

BG32, Aqua Mint Copic Sketch Marker
Shop at:
SSS | BA

Y15, Cadmium Yellow Copic Original Marker
Shop at:
BA

Y15, Cadmium Yellow Copic Sketch Marker
Shop at:
SSS | BA

YG05 Salad Copic Sketch Marker
Shop at:
SSS | BA

YG05 Salad Copic Original Marker
Shop at:
BA

RV21, Light Pink Copic Original Marker
Shop at:
BA

RV21, Light Pink Copic Sketch Marker
Shop at:
SSS | BA

E51, Milky White Copic Original Marker
Shop at:
BA

E51, Milky White Copic Sketch Marker
Shop at:
SSS | BA

BG13, Mint Green Copic Original Marker
Shop at:
BA

BG13, Mint Green Copic Sketch Marker
Shop at:
SSS | BA

BG11, Mint Green Copic Original Marker
Shop at:
BA

BG11, Mint Green Copic Sketch Marker
Shop at:
SSS | BA

E33, Sand Copic Original Marker
Shop at:
BA

E33, Sand Copic Sketch Marker
Shop at:
SSS | BA

YR04 Chrome Orange Copic Original Marker
Shop at:
BA

YR04 Chrome Orange Copic Sketch Marker
Shop at:
SSS | BA

V12 Pale Lilac Copic Original Marker
Shop at:
BA

V12 Pale Lilac Copic Sketch Marker
Shop at:
SSS | BA

W6 Warm Gray Copic Original Marker
Shop at:
BA

W6 Warm Gray Copic Sketch Marker
Shop at:
SSS | BA

W4 Warm Gray Copic Sketch Marker
Shop at:
SSS | BA

W4 Warm Gray Copic Original Marker
Shop at:
BA

E53 Raw Silk Copic Sketch Marker
Shop at:
SSS | BA

E53 Raw Silk Copic Original Marker
Shop at:
BA

RV10 Pale Pink Copic Sketch Marker
Shop at:
SSS | BA

RV10 Pale Pink Copic Original Marker
Shop at:
BA

RV13 Tender Pink Copic Original Marker
Shop at:
BA

RV13 Tender Pink Copic Sketch Marker
Shop at:
SSS | BA

R35 Coral Copic Original Marker
Shop at:
BA

R35 Coral Copic Sketch Marker
Shop at:
SSS | BA

Misti 2.0
Shop at:
SSS | LF | HB

Mini Misti 2.0
Shop at:
SSS | LF

Wendy Vecchi, Make Art Stay-tion
Shop at:
SSS | LF | R

Mint Glue Tube Holder
Shop at:
shurkus

Lawn Fawn Stamp Shammy
Shop at:
SSS | shurkus | LF

Mermaid Mint Shammy Case
Shop at:
shurkus

Spellbinders Platinum
Shop at:
SSS | SB

Spellbinders Limited Edition Aqua Platinum
Shop at:
SB

Klutter Keeper
Shop at:
shurkus

ATG Gun Holster, Mint
Shop at:
shurkus

Tim Holtz/Tonic 8.5 Guillotine Paper Trimmer
Shop at:
SSS