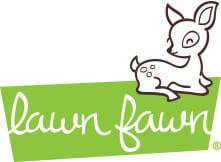 Hello Everyone! I created this card for the Lawn Fawnatics Challenge. This challenge is encouraging you to create a card with a congratulations theme! There are so many possibilities and it is easy to join us! Have you ever entered the challenge? Let me know in the comments.
If you love Lawn Fawn you should definitely follow us on that site– we have a fabulous team that offers inspiration and chances to win gift certificates to Lawn Fawn!
But before I share my cards with you I wanted to let you know about some fun offerings! First of all, I have a BIG New Years' SALE going on right now! You can take $5 off all previously released classes with the code: CLASSDEAL , and there are many discounted items in the SALE section of my online shop! Be sure to shop soon before this sale ends at the end of the day on January 2nd, 2023.
I also have recently released the details of two new online classes that will take place in January! Chari Moss and I will be teaching Frosty Friends together, and So Dam Cute is a fun self-paced class. You can see more details here
Don't want to miss out on any of my fun announcements, be sure to subscribe to my email newsletter.
Alright, now to the fun card I have to share with you-
Congratulations, Lawn Fawn
For this card, I started by stamping, coloring, and die-cutting the row of cats from Simply Celebrate Critters and the tiny birthday hats from Beam Me Up. I used Lawn Fawn Jet Black and Lawn Fawn white cardstock which is Neenah Classic Crest 80 LB Smooth Solar White Paper and colored them in with Copic markers. I made sure all three of my kitties were part of the celebration, and then I colored two of their friends.
I used Lawn Fawn Simply Sentiments to stamp "congratulations" in the speech bubbles. I ink blended a rainbow background using Lawn Fawn ink in Bubblegum, Sunflower, and Merman, and the Brick Stencil on a piece of Distress White Heavystock. I also ink-blended the edges of the card base with the same colors. Overlapping the inks allows you to get the full rainbow of colors.
I used Simon Says Stamp blender brushes (that I store in my favorite brush caddy). As always when I use stencils I used the Make Art Stay-tion and whenever I am ink blending I love to use the Ink Stands to hold my ink pads, I also use a small mister bottle filled with Isopropyl Alcohol, to quickly clean my stencils with a Flour Sack Cloth.
Next, I die cut the brick background from the largest stitched rectangle in the Outside In Stitched Rectangles. I then used a Quickie Glue Pen, and Prisma Glitter and added some sparkle between the bricks.
I hope you find this card inspiring, and that you join us in the challenge! You could win a $50 Gift Certificate from Lawn Fawn!!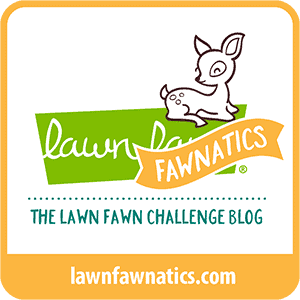 Join us!
We host a new challenge every 2 weeks. We randomly pick a winner so really ANYONE can win! You just need to follow the theme and use at least one Lawn Fawn product. You do not need to have a blog to enter, you can upload your project to Instagram, Facebook, or even Flicker- just be sure that it is public!
Be sure to pop on over to Lawn Fawnatics site and check out all the other inspiration from the rest of the design team!
TIP: you can use the search feature here on my website, and type in the name of any Lawn Fawn product, and you will see any inspiration I have shared with that item.
Card Making Supplies Used:
Supplies I used are linked below. Click on the picture and you will be taken to the product. I use affiliate links when available which means if you make a purchase I get a small commission at no extra cost to you. I appreciate your support!

Lawn Fawn, Simply Celebrate Critters
Shop at:
LF

Lawn Fawn, Beam Me Up
Shop at:
SSS | LF

Lawn Fawn, Simply Sentiments
Shop at:
SSS | LF

Lawn Fawn, Brick Stencil
Shop at:
SSS | LF

Lawn Fawn, Outside In Stitched Rectangle Stackables
Shop at:
SSS | LF

Flour Sack Cloths
Shop at:
Misc

Ranger, 2oz Mister
Shop at:
SSS | R

99% Isopropyl Alcohol
Shop at:
Misc

Tim Holtz/Tonic 8.5 Guillotine Paper Trimmer
Shop at:
SSS | HB

Fiskars Microtip Scissors
Shop at:
SSS | shurkus

Lawn Fawn Glue Tube
Shop at:
SSS | shurkus | LF

Mint Glue Tube Holder
Shop at:
shurkus

Scrapbook Adhesives, White Foam Strips
Shop at:
shurkus | LF

Wendy Vecchi, 7 inch Stay-tion
Shop at:
SSS | shurkus | R

Wendy Vecchi, Make Art Stay-tion
Shop at:
SSS | LF | R

Sakura, Quickie Glue Pen
Shop at:
SSS | shurkus | LF

Lawn Fawn Prisma Glitter
Shop at:
SSS | shurkus | LF

Simon Says Stamp, Blender Brushes
Shop at:
SSS

Blender Brush Caddie
Shop at:
shurkus

4″ Lazy Susan
Shop at:
Misc

Scotch, Mounting Putty
Shop at:
Misc

Spellbinders, Best Ever Craft Tape
Shop at:
SSS | shurkus | Misc

Distress White Heavystock
Shop at:
SSS | shurkus | R

Lawn Fawn, 80# White 8.5 x 11 Inch Cardstock
Shop at:
SSS | shurkus | LF

Neenah Classic Crest 80 LB Smooth Solar White Paper
Shop at:
SSS | HB

Lawn Fawn Merman Premium Dye Ink Pad Fawndamentals Lf1088
Shop at:
SSS | LF

Lawn Fawn Bubblegum Ink Pad
Shop at:
SSS | LF

Lawn Fawn Sunflower Ink Pad
Shop at:
SSS | LF

Lawn Fawn, Jet Black Premium Ink Pad
Shop at:
SSS | shurkus | LF

BG32, Aqua Mint Copic Original Marker
Shop at:
BA

BG32, Aqua Mint Copic Sketch Marker
Shop at:
SSS | BA

YG05 Salad Copic Sketch Marker
Shop at:
SSS | BA

YG05 Salad Copic Original Marker
Shop at:
BA

YR14, Caramel Copic Original Marker
Shop at:
BA

YR14, Caramel Copic Sketch Marker
Shop at:
SSS | BA

YR21, Cream Copic Original Marker
Shop at:
BA

YR21, Cream Copic Sketch Marker
Shop at:
SSS | BA

BG0000 Snow Green Copic Sketch Marker
Shop at:
SSS | BA

BG13, Mint Green Copic Original Marker
Shop at:
BA

BG13, Mint Green Copic Sketch Marker
Shop at:
SSS | BA

BG11, Mint Green Copic Original Marker
Shop at:
BA

BG11, Mint Green Copic Sketch Marker
Shop at:
SSS | BA

W8 Warm Gray Copic Original Marker
Shop at:
BA

W8 Warm Gray Copic Sketch Marker
Shop at:
SSS | BA

W6 Warm Gray Copic Original Marker
Shop at:
BA

W6 Warm Gray Copic Sketch Marker
Shop at:
SSS | BA

W4 Warm Gray Copic Sketch Marker
Shop at:
SSS | BA

W4 Warm Gray Copic Original Marker
Shop at:
BA

RV10 Pale Pink Copic Sketch Marker
Shop at:
SSS | BA

RV10 Pale Pink Copic Original Marker
Shop at:
BA

E000 Pale Fruit Pink Copic Sketch Marker
Shop at:
SSS | BA

Lawn Fawn Stamp Shammy
Shop at:
SSS | shurkus | LF

Mermaid Mint Shammy Case
Shop at:
shurkus

HoneyBee Stamps, Bee Creative Bitty Buzz Cutter – Die Cutting Machine
Shop at:
HB

Spellbinders Limited Edition Aqua Platinum
Shop at:
SB

Spellbinders Platinum
Shop at:
SSS | SB

Klutter Keeper
Shop at:
shurkus

ATG Gun Holster, Mint
Shop at:
shurkus