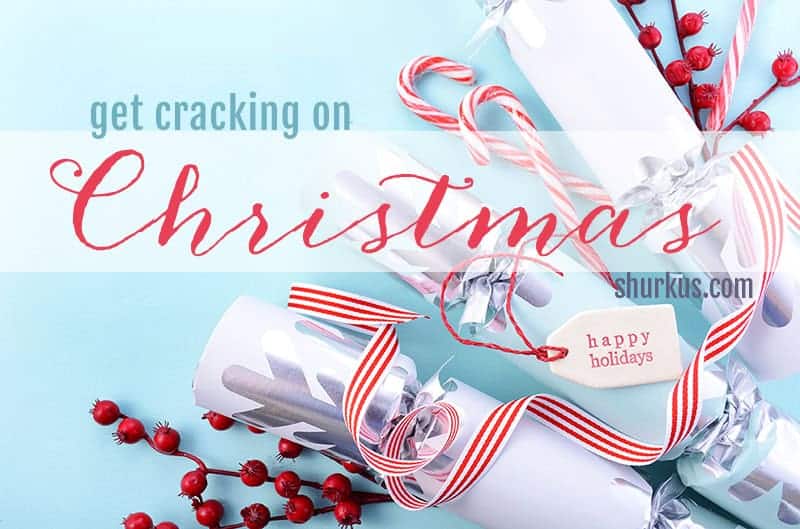 Have you heard of my Get Cracking on Christmas Series? Well, this year is going to bigger and better and more inspiring than ever!  So here are the details:
Let's be honest.
November rolls around and we say to ourselves "man I should've started making holiday cards A LOT sooner."
or
"I have so many wicked cute holiday sets that I haven't even had a chance to play with yet."
I am going to guess that most of you who are reading this post fall into one if not both of those scenarios. So for the past 2 years, some of my crafty friends and I have been challenging each other to create at least one-holiday card a month. I mean, that would give me 12 handmade holiday cards to send out at the end of the year and that's better than none.
This year I am excited to have MORE crafty friends participating with me AND I will be offering a GIVEAWAY each month to you guys!
On the third Thursday, we are going to post a holiday creation and hopefully inspire you to create one too!
If you do end up making any please leave a comment below with a link, or tag me on instagram so I can see! We are also going to use the hashtag #getcrackingonchristmas. This is how I will choose the winner, more about that at the end of this post.
We can do this! We can create holiday cards all year, and be a little bit more prepared for the holiday season!
If you do end up making any please leave a comment below with a link, or tag me on Instagram so I can see! We are also going to use the hashtag  #getcrackingonchristmas
Get Cracking: Frosty Fun
I clearly was still on an ink blending kick for this card too! This time I used Lawn Fawn's new Hillside stencils to do the ink blending of the snowy hills, and the masking of the night sky.
I also used a stamp from Inky Antics I hadn't used yet- whooo hooo!! Simple copic coloring, since they are polar bears 😉 and framed the whole scene with Lawn Fawn's Stitched Scalloped Rectangle Frames.
ok, before I explain the giveaway I want to be sure to have you go visit my crafty friends for more inspiration. I am so excited that they are joining me this year to bring you more inspiration and to remind you to work on those holiday cards all year long!
Libby
Giveaway Details
Some of you know we had to cancel Crop on the Cape due to the Coronavirus, Papercraft Clubhouse was going to be one of the vendors at the event- purchasing a lot of extra crafting supplies to sell at the event. I wanted to help support her in offering a Gift Certificate to her shop- she even has an online store– check it out!
This giveaway is open from March 19, 2020, to April 14, 2020 11p ET.  Winner will be announced, right here on this post. I will also email the winner.
1 winner will randomly be chosen from the eligible comments
I must get a reply from the winner with their mailing address within 48 hours or I will draw another winner.
This is open worldwide
In order to be eligible to win a prize you must be doing one of the following:

Leave a comment with a link to your Holiday cards you make this month
Use the hashtag #GetCrackingOnChristmas
WINNER
Congratulations Annette Hopkins!! You can see her cards here.