I know many of you have been waiting for the details about the in-person Creative Journey Art Retreat, which will be hosted on Cape Cod, MA, November 17-19th, 2023, and I am wicked excited to share them with you! This is my first in-person art retreat since the fall of 2019 and I am wicked excited! Part of the excitement is the new venue where I will be hosting it, Pelham House Resort is gorgeous and we will be looking out at the ocean all day while we are creating! *squeal*
Registration will open this Saturday, June 24th at 10a ET in my online shop, on my classes page. Set an alarm now, this event will sell out quickly!
More details can be found here: Creative Journey Art Retreat
This event has limited registration and we anticipate the event will sell out quickly. We suggest you set an alarm and plan to be on my site, ready to register at the time of registration opening.
I encourage you to create an account on my site now, (more about that below) or if you already have an account be sure you know your password so that won't slow down your checkout process. Also be sure to fill out all of your information ahead of time (first name, last name, email, etc). You can do that here: www.shurkus.com/my-account
You can register for a friend at the same time you are registering for yourself. Choose the qty of people you are registering and fill out their name, email address
I have recently upgraded my website and invested in upgraded systems to help with the large surge in traffic to this website during registration, but there is still a chance of the website having technical difficulties. Please know if this happens, I am aware of it and I will be working hard to fix it. Keep refreshing the page until it works again, thank you for your patience.
I encourage you to read over the Creative Journey Art Retreat page to learn even more about this fabulous event.
Join me LIVE on my YouTube Monday, June 19th at 12p ET where I will go over event details, improvements and new features, how registration will go, and answer any questions you might have.
I am wicked excited to be hosting this Creative Journey Art Retreat, with amazing sponsors- I hope you all are just as excited as I am!
Avery Elle
Colorado Craft Company
Creative Chick Co
Gina K Designs
Hero Arts
Honey Bee Stamps
Lawn Fawn
Newton's Nook Designs
Purple Onion Designs
Ranger
Pinkfresh Studio
Stampers Anonymous
Tim Holtz
Trinity Stamps
I would love it if you help spread the word about this event. Download the image below, by clicking it, the image will be on your screen and you can choose to save it and then share it on your social media!
Be sure to tag me @jennshurkus and use #CreativeJourneyCapeCod
Speaking of, you can see some other fun posts from previous events here
Thank you again for all of your support with my classes and events, I appreciate it SO much!
More information about registration:
I upgraded my site last fall, and part of those upgrades was to help registration for large events like this run smoother. I also invest in an upgrade to my web hosting at the time of registration. Think of it as my site is a one-lane highway right now, and when everyone tries to register, that one-lane highway gets blocked, and things break. Well, I have upgraded my site to a four-lane highway for high traffic times during registration and this will hopefully help. As always with technology things can happen. If you are experiencing any errors or delays during registration, please know I am frantically working behind the scenes to get things working and up and running as soon as possible. Fingers crossed for a smooth process, and I appreciate your patience.
Become familiar with my site- be sure to set up an account ahead of time and know your password.
fill out as much information as possible in your account to help speed up the registration process, this also helps me assist you down the road when you have questions about classes you have registered for, etc. Fill out your name, billing address, shipping address, etc.
At the time of registration, you will want to either go to the shop, then click "classes & events"
OR you can just choose "classes" from the menu.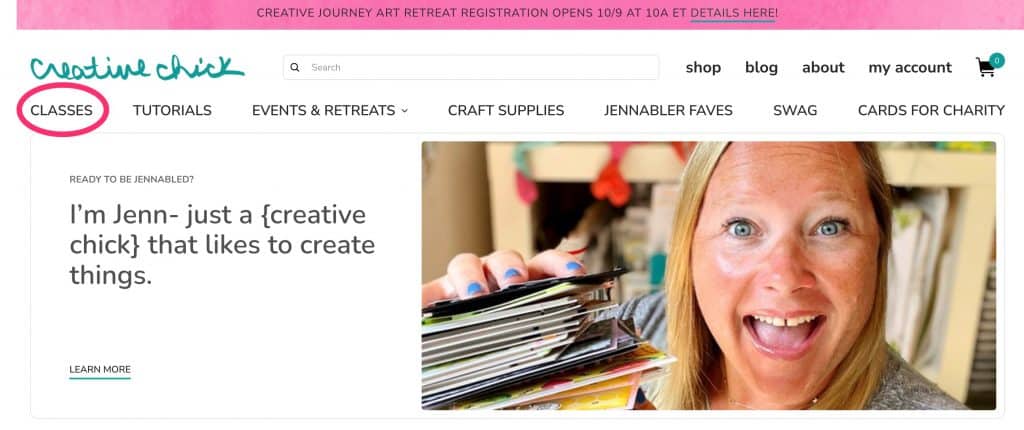 The classes on this page are divided into Upcoming Classes, and then in chronological order, and then Classes On-Demand. You will want to scroll to the bottom of the Upcoming Classes, to see the Creative Journey Art Retreat since it is hosted in June.
You can register for a friend or even two friends, but be sure to know all of their info
It is important you fill in their correct information at the time of registration, please don't duplicate email addresses as it is important that I can contact all attendees.
You will be able to pay with either a credit card or PayPal.
If you would like to see your order and confirm your order, you can log into your account and choose "orders".
Ok, I know that is a lot of information, but hopefully, you find this helpful. I am wicked excited to have you visit Cape Cod, my home, and create with me!