Hi everyone!! I am back with some more STAMPtember fun! The much-anticipated Lawn Fawn day is HERE!!! and I KNOW you guys are just going to LOVE this new Sledding By exclusive set!!!
Sledding By- Lawn Fawn STAMPtember Exclusive
STAMPtember is a month-long party hosted by Simon Says Stamp. Throughout the month they release exclusive products from themselves and other companies. There are limited quantities of these products so you have to act fast! Once it is sold out, it is gone for good!
I have a fun card I created with the new stamp set to hopefully inspire you!
For this card, I started by stamping some of the adorable images in the new/exclusive Sledding By stamp set. I stamped it on Neenah 80# cardstock with Lawn Fawn Jet Black ink since I was going to be coloring them with Copic markers which are alcohol-based markers.
Whenever I share cards here on my blog where I have colored with Copic markers I share a swatch list of the colors I have used, this way you can use the same exact colors, or similar colors in the medium of your choice. Today, I thought it would also be fun to share with you some coloring guides of exactly how I colored these images. In all of my classes, I provide coloring guides like these that are a great resource. You can use them for color combo ideas, for guidance on where to place the shadow etc.
I go over some helpful tips for coloring with alcohol-based markers in my Copic 101 blog post here, and if you are interested in learning more I highly encourage you to subscribe to my email newsletter so you hear all the details about my upcoming online Copic class!
I also go in-depth with coloring in all of my online classes, if you LOVE Lawn Fawn there are many classes to choose from!
Coloring Guides
All Copics are linked below in the supply list.
Hedgehog body: E43, E42
Hedgehog prickles: E59, E57
Hedgehog ear muffs: YG09, YG05

Bear: E37, E33
Bear hat: YR04, Y38
Bear hat trim: Y38, Y17
Bear scarf: BG13, BG11

Mouse: W6, W4, W2
Mouse hat: V17
Mouse hat trim: V15, V12
Mouse scarf: Y17, Y15

Fox: YR27, YR14
Fox cheeks, and the tip of tail: E51
Fox scarf: RV13, RV21

Rosy cheeks, and inner ears: R20
Sleds: V17, V15
Trees: YG09, YG05
Snow on trees: BG13, BG11
Once I colored and die-cut my images, I added some white gel pen dots to their rosy cheeks and I drew in stripes and polka dots to a few of the scarves. I then added some Prisma Glitter with a Quickie Glue pen to detail on the hats, ear muffs, scarves, and the snow on the tops of the trees.
I worked on the background. On a piece of Distress Watercolor Cardstock, I stamped and white embossed the snowflakes cluster and filled in some spaces with the single snowflakes included in the set. Whenever I white emboss I use Yeti Lawn Fawn pigment ink, and Alabaster White Brutus Monroe White Embossing Powder. Note: I always prep the surface using the Cottontail Embossing Powder Tool. This gets rid of any static cling or moisture on your surface.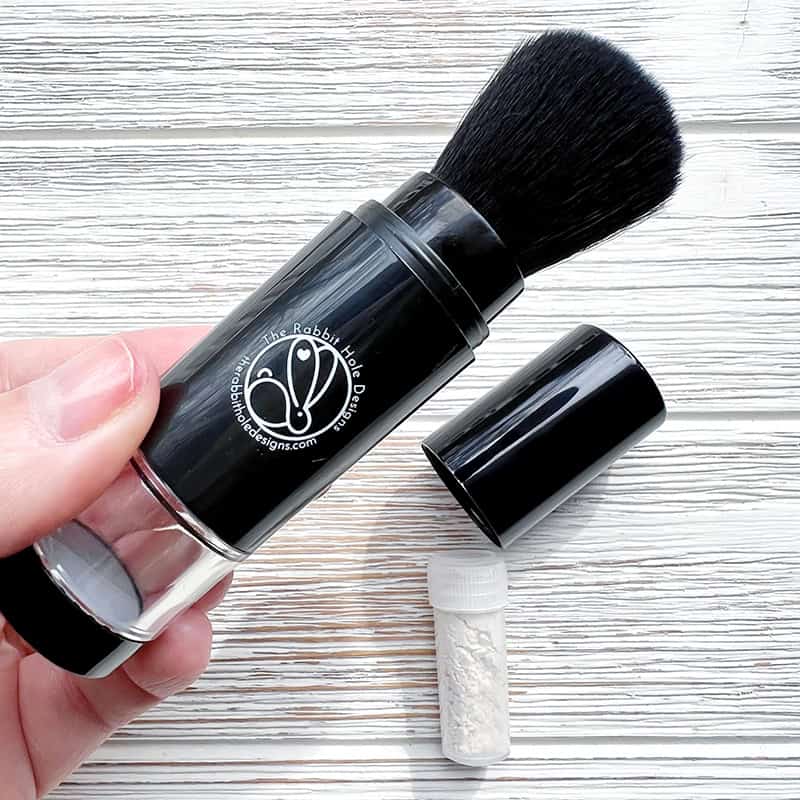 I then watercolored some Distress Ink in Salvaged Patina and Wilted Violet, over the embossed snowflakes creating a resist.
I then added some shimmer spray which I have in a spray bottle and I created it with a few drops of Lawn Fawn Liquid Stardust and then water. Next, I diecut another piece of Distress Watercolor Cardstock with the Lawn Fawn Stitched Hillside Backdrop: Portrait to help me build my scene. I watercolored a touch of Savaged Patina Distress Ink, under where the sleds were going to go for a little shadow. I then arranged my scene using foam squares and a glue tube. I added the Stitched Hillside Backdrop to the background using foam strips. I then stamped a sentiment onto a sentiment banner and added that to the card too. Lastly, I added a little bit of Chunky glitter to the tops of trees, under the sleds, and along the ground with Glossy Accents.
There is just SO much you can do with this fun set, but remember it is limited and exclusive! Once it is sold out it is GONE!
You can also head over to the Lawn Fawn blog for a TON of inspiration from the design team as well
Also, if you are a Lawn Fawn fan- be sure to check out my Fall line-up of online classes & events. Registration is now open for some of the classes and you can find details here.
Lastly, if you want to be sure not to miss any details of upcoming classes and events, subscribe to my email newsletter here!
Supplies Used
Supplies I used are linked throughout the post. Click on the product name and you will be taken to the product. I use affiliate links when available which means if you make a purchase I get a small commission at no extra cost to you. Thank you for your support!

Lawn Fawn, Sledding By
Shop at:
SSS

Lawn Fawn, Stitched Hillside Backdrop: Portrait
Shop at:
SSS

Lawn Fawn, Everyday Sentiment Banners
Shop at:
SSS | LF

Tim Holtz/Ranger Ink, Salvaged Patina Distress
Shop at:
SSS | R

Tim Holtz, Wilted Violet Distress Ink
Shop at:
SSS | R

Lawn Fawn, Jet Black Premium Ink Pad
Shop at:
SSS | shurkus | LF

Lawn Fawn, 80# White 8.5 x 11 Inch Cardstock
Shop at:
SSS | LF

Tsukineko Versafine Onyx Black Ink Pad
Shop at:
SSS

Lawn Fawn, Yeti Ink Pad
Shop at:
SSS | shurkus | LF

Brutus Monroe, Alabaster White Embossing Powder
Shop at:
SSS

The Rabbit Hole Designs, Cottontail Powder Tool
Shop at:
shurkus

The Rabbit Hole Designs, Cottontail Powder Refill
Shop at:
shurkus

Tim Holtz, Distress Watercolor Cardstock 8.5 x 11
Shop at:
SSS | shurkus | R

Ranger Glossy Accents
Shop at:
SSS | shurkus | R

Lawn Fawn Prisma Glitter
Shop at:
SSS | shurkus | LF

Sakura, Quickie Glue Pen
Shop at:
SSS | shurkus | LF

Scrapbook Adhesives, White Foam Strips
Shop at:
shurkus

Ranger, 2oz Mister
Shop at:
SSS | R

Lawn Fawn, Liquid Stardust
Shop at:
SSS | LF

Sakura CLASSIC WHITE Fine Line 05 Gelly Roll Pen
Shop at:
SSS

Lawn Fawn, Chunky Glitter
Shop at:
SSS | shurkus | LF

Lawn Fawn Glue Tube
Shop at:
SSS | shurkus | LF

Fiskars Microtip Scissors
Shop at:
SSS

Ranger, Heat Tool
Shop at:
SSS | R

Wagner Heat Tool
Shop at:
SSS

Flour Sack Cloths
Shop at:
HBS

E37, Sepia Copic Sketch Marker
Shop at:
SSS | BA

E37, Sepia Copic Original Marker
Shop at:
BA

V17, Amethyst Copic Original Marker
Shop at:
BA

V17, Amethyst Copic Sketch Marker
Shop at:
SSS | BA

Y15, Cadmium Yellow Copic Original Marker
Shop at:
BA

Y15, Cadmium Yellow Copic Sketch Marker
Shop at:
SSS | BA

YG05 Salad Copic Sketch Marker
Shop at:
SSS | BA

YG05 Salad Copic Original Marker
Shop at:
BA

YR14, Caramel Copic Original Marker
Shop at:
BA

YR14, Caramel Copic Sketch Marker
Shop at:
SSS | BA

Y17, Golden Yellow Copic Original Marker
Shop at:
BA

Y17, Golden Yellow Copic Sketch Marker
Shop at:
SSS | BA

Y38, Honey Copic Sketch Marker
Shop at:
BA

Y38, Honey Copic Original Marker
Shop at:
BA

YG09, Lettuce Green Copic Sketch Marker
Shop at:
SSS | BA

YG09, Lettuce Green Copic Original Marker
Shop at:
BA

RV21, Light Pink Copic Original Marker
Shop at:
BA

RV21, Light Pink Copic Sketch Marker
Shop at:
SSS | BA

E57, Walnut Copic Original Marker
Shop at:
BA

E57, Walnut Copic Sketch Marker
Shop at:
BA

V15, Mallow Copic Sketch Marker
Shop at:
SSS | BA

V15, Mallow Copic Original Marker
Shop at:
BA

E51, Milky White Copic Original Marker
Shop at:
BA

E51, Milky White Copic Sketch Marker
Shop at:
SSS | BA

BG13, Mint Green Copic Original Marker
Shop at:
BA

BG13, Mint Green Copic Sketch Marker
Shop at:
SSS | BA

BG11, Mint Green Copic Original Marker
Shop at:
BA

BG11, Mint Green Copic Sketch Marker
Shop at:
SSS | BA

E33, Sand Copic Original Marker
Shop at:
BA

E33, Sand Copic Sketch Marker
Shop at:
SSS | BA

YR04 Chrome Orange Copic Original Marker
Shop at:
BA

YR04 Chrome Orange Copic Sketch Marker
Shop at:
SSS | BA

V12 Pale Lilac Copic Original Marker
Shop at:
BA

V12 Pale Lilac Copic Sketch Marker
Shop at:
SSS | BA

W2 Warm Gray Copic Original Marker
Shop at:
BA

W2 Warm Gray Copic Sketch Marker
Shop at:
SSS | BA

W6 Warm Gray Copic Original Marker
Shop at:
BA

W6 Warm Gray Copic Sketch Marker
Shop at:
SSS | BA

W4 Warm Gray Copic Sketch Marker
Shop at:
SSS | BA

W4 Warm Gray Copic Original Marker
Shop at:
BA

YR27 Tuscan Orange Copic Sketch Marker
Shop at:
SSS | BA

RV13 Tender Pink Copic Original Marker
Shop at:
BA

RV13 Tender Pink Copic Sketch Marker
Shop at:
SSS | BA

R20, Blush Copic Original Marker
Shop at:
BA

R20, Blush Copic Sketch Marker
Shop at:
SSS | BA

E59, Walnut Copic Sketch Marker
Shop at:
SSS | BA

E59, Walnut Copic Original Marker
Shop at:
BA

E42 Sand White Copic Sketch Marker
Shop at:
SSS | BA

E43 Dull Ivory Copic Original Marker
Shop at:
BA

E43 Dull Ivory Copic Sketch Marker
Shop at:
SSS | BA

Lawn Fawn Stamp Shammy
Shop at:
SSS | shurkus | LF

Mermaid Mint Shammy Case
Shop at:
shurkus

ATG Gun Holster, Mint
Shop at:
shurkus

Tim Holtz/Tonic 8.5 Guillotine Paper Trimmer
Shop at:
SSS