Hi, everyone! I am here today to share a card I created for the latest Lawn Fawnatics Challenge. This challenge is all about using the above image to inspire your project! If you love Lawn Fawn you should definitely follow us on that site- we have a fabulous team that offers inspiration and chances to win gift certificates to Lawn Fawn!
Before I share my card with you, I just wanted you to know, that registration is open for my next 3 online classes. I also will be teaching some in-person classes, and offering some free Create With Us mini-classes with Kelly Marie. You can find more details here.
It's going to be a fun few months and I hope you will join me!
Don't want to miss out on other fun announcements, be sure to subscribe to my email newsletter. I have A LOT of fun things planned for the fall, and you won't want to miss out!
Alright, now to the fun card I have to share with you-
Hey Friend! , Lawn Fawnatics
I used the inspiration photo to inspire the background that I created. I used Distress re-inkers in Kitsch Flamingo, Wild Honey, Mustard Seed, Mowed Lawn, Mermaid Lagoon, and Wilted Violet. I watercolored onto Distress Watercolor Cardstock, and I used the re-inkers so the color would be brighter and more intense.
I then stamped a bunch of the fun bats from the new Lawn Fawn Set, Fangtastic Friends. I love that even though this set can be used for Halloween cards, it can be used for all kinds of cards as well. We are using Fangtastic Friends in my upcoming Wicked Fangtastic self-paced class. I used the watercolored background to inspire my coloring of the bats, I colored them in rainbow colors to coordinate with where they will be on the card.
Copic colors used:

All markers are listed and linked below in the supply list.
I then die cut the sentiment "hey friend!" from Finley's ABCs out of Black Licorice cardstock. I arranged them onto the background, using the Wendy Vecchi Stay-tion and low tack tape to line up the letters straight and spaced out evenly. I used black foam strips behind the letters to attach them to the card.
I then glittered all of the things, adding some sparkle to each of the bats with a Quickie glue pen and Prisma glitter. I added a little white gel pen to the fangs on the bats, this really makes them pop!
I stamped and white embossed the sentiment onto a small sentiment banner from Extra Sentiment Banners. Anytime I white emboss I use Yeti Lawn Fawn pigment ink, and Alabaster White Brutus Monroe White Embossing Powder.
Note: whenever I do ANY embossing, I prep the surface using the Cottontail Embossing Powder Tool.
I then stamped a few of the small heart stamp included in the Fangtastic Friends set. I filled in these hearts and covered all the letters with a Black Glaze pen.
I hope you find this card inspiring, and that you join us in the challenge! You could win a $50 Gift Certificate from Lawn Fawn!!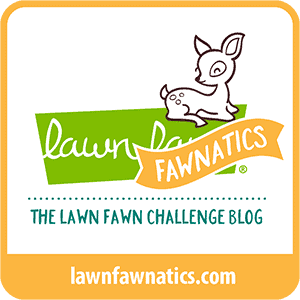 Join us!
We host a new challenge every 2 weeks. We randomly pick a winner so really ANYONE can win! You just need to follow the theme and use at least one Lawn Fawn product. You do not need to have a blog to enter, you can upload your project to Instagram, Facebook, or even Flicker- just be sure that it is public!
Be sure to pop on over to Lawn Fawnatics site and check out all the other inspiration from the rest of the design team!
Supplies Used
Supplies I used are linked throughout the post. Click on the product name and you will be taken to the product. I use affiliate links when available which means if you make a purchase I get a small commission at no extra cost to you. Thank you for your support!

Lawn Fawn, Fangtastic Friends
Shop at:
LF

Lawn Fawn, Extra Sentiment Banner
Shop at:
SSS | LF

Lawn Fawn, Outside In Stitched Rectangle Stackables
Shop at:
SSS | LF

Wendy Vecchi, 7 inch Stay-tion
Shop at:
SSS | shurkus | R

Tim Holtz Distress Sprayer Ranger 4 Ounces
Shop at:
SSS | R

Tim Holtz/Ranger Ink, Wild Honey Distress Ink Reinker
Shop at:
SSS

Tim Holtz/Ranger Ink, Mowed Lawn Distress Ink Reinker
Shop at:
SSS

Tim Holtz Distress Reinker, Wilted Violet
Shop at:
SSS

Lawn Fawn, Jet Black Premium Ink Pad
Shop at:
SSS | shurkus | LF

Lawn Fawn, 80# White 8.5 x 11 Inch Cardstock
Shop at:
SSS | LF

Lawn Fawn, Yeti Ink Pad
Shop at:
SSS | shurkus | LF

Brutus Monroe, Alabaster White Embossing Powder
Shop at:
SSS

The Rabbit Hole Designs, Cottontail Powder Tool
Shop at:
shurkus

The Rabbit Hole Designs, Cottontail Powder Refill
Shop at:
shurkus

Tim Holtz, Distress Watercolor Cardstock 8.5 x 11
Shop at:
SSS | shurkus | R

Lawn Fawn, Black Licorice 8.5 x 11 Cardstock
Shop at:
SSS | LF

Scrapbook Adhesives, Black Foam Strips
Shop at:
shurkus

Lawn Fawn, Finley's ABC's
Shop at:
SSS | LF

Scrapbook Adhesives, mixed black foam squares
Shop at:
shurkus

Lawn Fawn Prisma Glitter
Shop at:
SSS | shurkus | LF

Sakura, Quickie Glue Pen
Shop at:
SSS | shurkus | LF

Sakura Black Glaze Gel Pens Pen 2 Pack 38495
Shop at:
SSS | shurkus

Mermaid Lagoon Distress re inker
Shop at:
SSS

Tim Holtz Distress Reinker, Kitsch Flamingo
Shop at:
SSS | R

Tim Holtz Distress Reinker, Mustard Seed
Shop at:
SSS | R

Ranger Paintbrush Set
Shop at:
SSS | R

Faber-Castell, Collapsible Water Cup
Shop at:
SSS

Sakura CLASSIC WHITE Fine Line 05 Gelly Roll Pen
Shop at:
SSS

Spellbinders, Best Ever Craft Tape
Shop at:
SSS | shurkus | HBS

Lawn Fawn Glue Tube
Shop at:
SSS | shurkus | LF

Fiskars Microtip Scissors
Shop at:
SSS

Ranger, Heat Tool
Shop at:
SSS | R

Wagner Heat Tool
Shop at:
SSS

Flour Sack Cloths
Shop at:
HBS

V01, Heath Copic Sketch Marker
Shop at:
SSS | BA

V17, Amethyst Copic Original Marker
Shop at:
BA

V17, Amethyst Copic Sketch Marker
Shop at:
SSS | BA

Y15, Cadmium Yellow Copic Original Marker
Shop at:
BA

Y15, Cadmium Yellow Copic Sketch Marker
Shop at:
SSS | BA

YG05 Salad Copic Sketch Marker
Shop at:
SSS | BA

YG05 Salad Copic Original Marker
Shop at:
BA

Y17, Golden Yellow Copic Original Marker
Shop at:
BA

Y17, Golden Yellow Copic Sketch Marker
Shop at:
SSS | BA

YG01, Green Bice Copic Original Marker
Shop at:
BA

YG01, Green Bice Copic Sketch Marker
Shop at:
SSS | BA

BG05, Holiday Blue Copic Original Marker
Shop at:
BA

BG05, Holiday Blue Copic Sketch Marker
Shop at:
BA

Y38, Honey Copic Sketch Marker
Shop at:
BA

Y38, Honey Copic Original Marker
Shop at:
BA

Y13, Lemon Yellow Copic Original Marker
Shop at:
BA

Y13, Lemon Yellow Copic Sketch Marker
Shop at:
SSS | BA

YG09, Lettuce Green Copic Sketch Marker
Shop at:
SSS | BA

YG09, Lettuce Green Copic Original Marker
Shop at:
BA

RV21, Light Pink Copic Original Marker
Shop at:
BA

RV21, Light Pink Copic Sketch Marker
Shop at:
SSS | BA

BG0000 Snow Green Copic Sketch Marker
Shop at:
SSS | BA

V15, Mallow Copic Sketch Marker
Shop at:
SSS | BA

V15, Mallow Copic Original Marker
Shop at:
BA

YR04 Chrome Orange Copic Original Marker
Shop at:
BA

YR04 Chrome Orange Copic Sketch Marker
Shop at:
SSS | BA

BG02 New Blue Copic Original Marker
Shop at:
BA

BG02 New Blue Copic Sketch Marker
Shop at:
BA

V12 Pale Lilac Copic Original Marker
Shop at:
BA

V12 Pale Lilac Copic Sketch Marker
Shop at:
SSS | BA

B06 Peacock Blue Copic Original Marker
Shop at:
BA

B06 Peacock Blue Copic Sketch Marker
Shop at:
SSS | BA

RV10 Pale Pink Copic Sketch Marker
Shop at:
SSS | BA

RV10 Pale Pink Copic Original Marker
Shop at:
BA

RV13 Tender Pink Copic Original Marker
Shop at:
BA

RV13 Tender Pink Copic Sketch Marker
Shop at:
SSS | BA

Misti 2.0
Shop at:
SSS | LF

Mini Misti 2.0
Shop at:
SSS | LF

Lawn Fawn Stamp Shammy
Shop at:
SSS | shurkus | LF

Mermaid Mint Shammy Case
Shop at:
shurkus

ATG Gun Holster, Mint
Shop at:
shurkus

Tim Holtz/Tonic 8.5 Guillotine Paper Trimmer
Shop at:
SSS