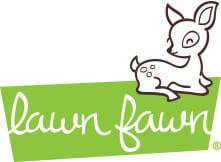 Hello Everyone! I created this card for the Lawn Fawnatics Challenge. This challenge is encouraging you to create an interactive card! There are so many possibilities and it is easy to join us! Have you ever entered the challenge? Let me know in the comments.
If you love Lawn Fawn you should definitely follow us on that site– we have a fabulous team that offers inspiration and chances to win gift certificates to Lawn Fawn!
Before I share my card, I wanted to remind you that So Dam Cute is a fun self-paced class and is available online now. You can see more details here. I also just announced the details for my next Distress Technique class all about Distress Watercolor Pencils. Hope you are going to join me!
Don't want to miss out on any of my fun announcements, be sure to subscribe to my email newsletter.
Alright, now to the fun card I have to share with you-
Sending Smiles, Lawn Fawnatics
For this card, I started by stamping, coloring, and die-cutting a bunch of images from Butterfly Kisses. I used Lawn Fawn Jet Black and Lawn Fawn white cardstock which is Neenah Classic Crest 80 LB Smooth Solar White Paper and colored them in with Copic markers.
I used the above Copic markers to color in the images. You will find them linked below in the cardmaking supply list. With the swatches above you can easily substitute for similar colors, or even a different coloring medium. If you are interested in learning more about Copic coloring, or alcohol marker coloring, be sure to check out my Copic 101 post here.
I added a few details to the critters' cheeks with a white gel pen. And to the bunny's eyes and foxes nose, I added some black glaze pen.
I then die cut a stitched rectangle out of the textured side of Distress Watercolor Cardstock, and watercolored a sky and ground with Distress Ink. I used Lost Shadow and Salvaged Patina for the sky, and Mowed Lawn for the ground.
I then used a Quickie Glue Pen, and Prisma Glitter and added some sparkle to the shadow on the clouds and butterfly net. I also added some glitter to the center of the flowers, and the shadows of the butterfly wings.
I arranged the scene onto the stitched rectangle adhering some of the images with glue tube and some with foam squares. I then stamped the small butterfly trail from Butterfly Kisses Flip Flop. I set this aside.

I cut a piece of Distress Watercolor Cardstock to be 8.5″ x 5.5″, and on the smooth side, I ink blended some clouds using the Slimline Cloudy Stencils, and Lost Stadow Distress Ink.

I used Simon Says Stamp blender brushes (that I store in my favorite brush caddy). As always when I use stencils I used the Make Art Stay-tion and whenever I am ink blending I love to use the Ink Stands to hold my ink pads, I also use a small mister bottle filled with Isopropyl Alcohol, to quickly clean my stencils with a Flour Sack Cloth.
I then did a little ink smooshing on another piece of Distress Watercolor Cardstock using Saltwater Taffy and Abandoned Coral Distress Ink. Next, I diecut some butterflies from Pop-Up Butterfly and Layered Butterflies. I die-cut the top layers and the bodies of the butterflies from Storm Cloud Cardstock.
I started by adding the pop-up butterfly to the center of the card with 1/8″ tape. I then added the other butterflies to the background. For the sentiment, I die cut the word "smile" from Scripy Smile, and an "s" from Scripty Hugs. I cut the "s" off of "hugs" and layered it onto the word "smile".
I stamped some butterfly trails and added some Chunky glitter here and there with glossy accents. I added the stitched rectangle that I created the scene on, to the front of the card. I also added a little word fetti "sending" so the card reads "sending smiles"
I hope you find this card inspiring, and that you join us in the challenge! You could win a $50 Gift Certificate from Lawn Fawn!!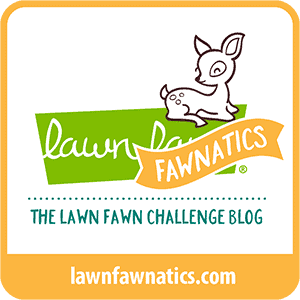 Join us!
We host a new challenge every 2 weeks. We randomly pick a winner so really ANYONE can win! You just need to follow the theme and use at least one Lawn Fawn product. You do not need to have a blog to enter, you can upload your project to Instagram, Facebook, or even Flicker- just be sure that it is public!
Be sure to pop on over to Lawn Fawnatics site and check out all the other inspiration from the rest of the design team!
TIP: you can use the search feature here on my website, and type in the name of any Lawn Fawn product, and you will see any inspiration I have shared with that item.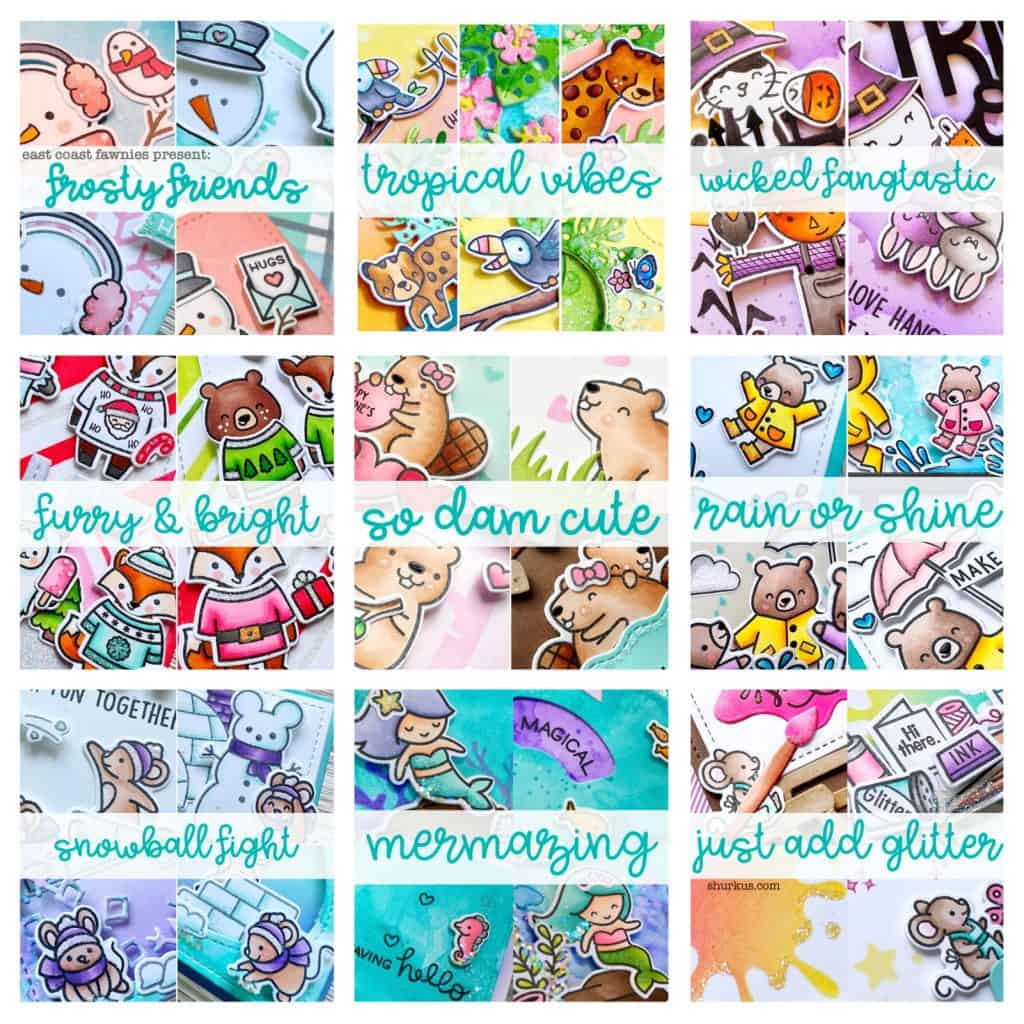 Card Making Supplies Used:
Cardmaking supplies I used are linked below. Click on the picture and you will be taken to the product. I use affiliate links when available which means if you make a purchase I get a small commission at no extra cost to you. I appreciate your support!

Lawn Fawn, Butterfly Kisses
Shop at:
SSS | LF

Lawn Fawn, Butterfly Kisses Flip Flop
Shop at:
SSS | LF

Lawn Fawn, Slimline Cloudy Stencils
Shop at:
SSS | LF

Lawn Fawn, Pop-Up Butterfly
Shop at:
LF

Lawn Fawn, Layered Butterflies
Shop at:
SSS | LF

Lawn Fawn Scripty Smile
Shop at:
SSS | LF

Lawn Fawn, Scripty Hugs
Shop at:
SSS | LF

Lawn Fawn, Outside In Stitched Rectangle Stackables
Shop at:
SSS | LF

Blick Arts, Master Synthetic Round #4 Brush
Shop at:
BA

Ranger Paintbrush Set
Shop at:
SSS | R

Tim Holtz Distress Sprayer Ranger 4 Ounces
Shop at:
SSS | R

Lawn Fawn, Jet Black Premium Ink Pad
Shop at:
SSS | shurkus | LF

Tsukineko Versafine Onyx Black Ink Pad
Shop at:
SSS | shurkus | HB

Flour Sack Cloths
Shop at:
Misc

Faber-Castell, Collapsible Water Cup
Shop at:
SSS

Ranger, Heat Tool
Shop at:
SSS | HB | R

Ranger Glossy Accents
Shop at:
SSS | shurkus | HB | R

Lawn Fawn Glue Tube
Shop at:
SSS | shurkus | LF

Mint Glue Tube Holder
Shop at:
shurkus

Scrapbook Adhesives, mixed white foam squares
Shop at:
shurkus

Scrapbook Adhesives, White Foam Strips
Shop at:
shurkus | LF

Misti 2.0
Shop at:
SSS | LF | HB

Mini Misti 2.0
Shop at:
SSS | LF | HB

Lawn Fawn, 1.75″ round grip block
Shop at:
SSS | shurkus | LF

Lawn Fawn, 3.5″ round grip block with grid
Shop at:
SSS | shurkus | LF

Lawn Fawn, 1/8″ double-sided tape
Shop at:
SSS | shurkus | LF

Wendy Vecchi, 7 inch Stay-tion
Shop at:
SSS | shurkus | R

Wendy Vecchi, Make Art Stay-tion
Shop at:
SSS | LF | R

Sakura, Quickie Glue Pen
Shop at:
SSS | shurkus | LF

Lawn Fawn Prisma Glitter
Shop at:
SSS | shurkus | LF

Lawn Fawn, Chunky Glitter
Shop at:
SSS | shurkus | LF

Sakura Gelly Roll White Gel Pen 08, 3pk
Shop at:
shurkus

Sakura Gelly Roll White Gel Pen 08
Shop at:
shurkus

Sakura Black Glaze Gel Pens Pen 2 Pack 38495
Shop at:
SSS | shurkus

Simon Says Stamp, Blender Brushes
Shop at:
SSS

Blender Brush Caddie
Shop at:
shurkus

4″ Lazy Susan
Shop at:
Misc

Scotch, Mounting Putty
Shop at:
Misc

Spellbinders, Best Ever Craft Tape
Shop at:
SSS | shurkus | Misc

The Ink Stand, square
Shop at:
shurkus

Tim Holtz/Ranger Ink, Lost Shadown Distress Ink
Shop at:
SSS | R

Tim Holtz/Ranger Ink, Salvaged Patina Distress
Shop at:
SSS | R

Tim Holtz, Mowed Lawn Distress Ink
Shop at:
SSS | R

Tim Holtz/Ranger Ink, Saltwater Taffy Distress Ink
Shop at:
SSS | R

Tim Holtz, Abandoned Coral Distress Ink
Shop at:
SSS | R

Tim Holtz/Ranger Ink, Distress Watercolor Cardstock 4 1/4 x 5 1/2
Shop at:
shurkus

Tim Holtz, Distress Watercolor Cardstock 8.5 x 11
Shop at:
SSS | shurkus | R

Lawn Fawn, 80# White 8.5 x 11 Inch Cardstock
Shop at:
SSS | shurkus | LF

Neenah Classic Crest 80 LB Smooth Solar White Paper
Shop at:
SSS | HB

Lawn Fawn, Storm Cloud Cardstock
Shop at:
SSS | LF

Copic Markers
Shop at:
SSS | BA

Y21, Buttercup Yellow Copic Original Marker
Shop at:
BA

Y21, Buttercup Yellow Copic Sketch Marker
Shop at:
SSS | BA

YG05 Salad Copic Sketch Marker
Shop at:
SSS | BA

YG05 Salad Copic Original Marker
Shop at:
BA

E00, Cotton Pearl Copic Original Marker
Shop at:
BA

E00, Cotton Pearl Copic Sketch Marker
Shop at:
SSS | BA

E02, Fruit Pink Copic Original Marker
Shop at:
BA

E02, Fruit Pink Copic Sketch Marker
Shop at:
SSS | BA

Y17, Golden Yellow Copic Original Marker
Shop at:
BA

Y17, Golden Yellow Copic Sketch Marker
Shop at:
SSS | BA

YG09, Lettuce Green Copic Sketch Marker
Shop at:
SSS | BA

YG09, Lettuce Green Copic Original Marker
Shop at:
BA

BG0000 Snow Green Copic Sketch Marker
Shop at:
SSS | BA

E27, Milk Chocolate Copic Original Marker
Shop at:
BA

E27, Milk Chocolate Copic Sketch Marker
Shop at:
BA

BG11, Mint Green Copic Original Marker
Shop at:
BA

BG11, Mint Green Copic Sketch Marker
Shop at:
SSS | BA

R30 Pale Yellowish Pink Copic Sketch Marker
Shop at:
SSS | BA

YR27 Tuscan Orange Copic Sketch Marker
Shop at:
SSS | BA

R22 Light Prawn Copic Sketch Marker
Shop at:
SSS | BA

R24 Prawn Copic Original Marker
Shop at:
BA

R24 Prawn Copic Sketch Marker
Shop at:
BA

R21 Sardonyx Copic Sketch Marker
Shop at:
BA

Lawn Fawn Stamp Shammy
Shop at:
SSS | shurkus | LF

Mermaid Mint Shammy Case
Shop at:
shurkus

Tim Holtz/Tonic 8.5 Guillotine Paper Trimmer
Shop at:
SSS | HB