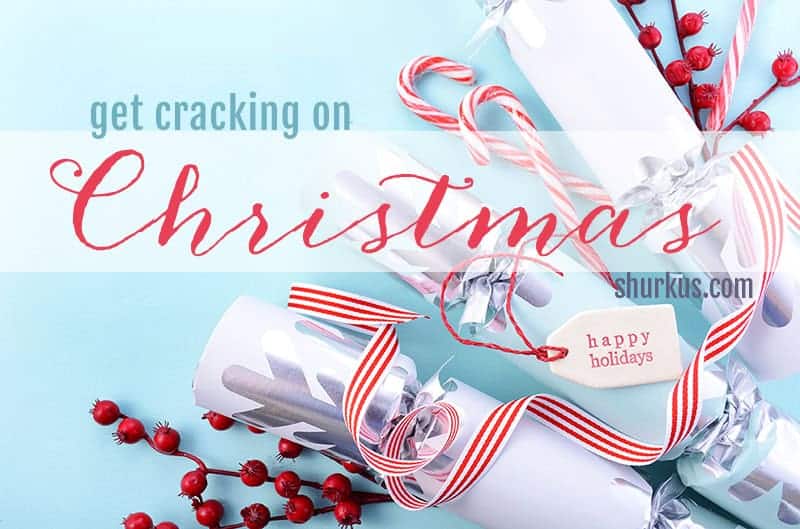 OK, so here we are, it is the middle of December. If you want to scramble and still make some holiday cards- check out my tips in this video tutorial I shared earlier this week.
If you are all set with holiday cards for this year, then now is the time to "Get Cracking" for next year. This is exactly why I started this series. So that you can make a few cards each month. That way you are able to play with different designs, and products, and actually ENJOY creating them, not feeling stressed. On the third Thursday of each month, I post inspiration and remind you to Get Cracking! Even better, I have some creative friends join in too, linked below, and if that is not enough I even have a fun giveaway to hopefully entice you.
If you do end up making any please leave a comment below with a link, or tag me on instagram so I can see! We are also going to use the hashtag #getcrackingonchristmas. This is how I will choose the winner, more about that at the end of this post.
We can do this! We can create holiday cards all year, and be a little bit more prepared for the holiday season!
If you do end up making any please leave a comment below with a link, or tag me on Instagram so I can see! We are also going to use the hashtag #getcrackingonchristmas
Get Cracking: Merry Catmas
One of the reasons why I started Get Cracking, is because I like to buy ALLLLL the holiday stamps, but don't have time to use them all. Since I am using them throughout the year, I can justify all my crafty purchases! Tricky, huh?
This new stamp set, Feline Like Christmas Spinners, from Simon Says Stamp was a must-have for me, not only because it is a kitty set, but because my friend, Nina-Marie, who designed it, designed one of the kitties to look just like Mister Harley!
See that kitty in the top center? Mister Harley! It has his markings and he is wearing a little bowtie! I love it!
I started by die-cutting the new Lawn Fawn Scalloped Slimline With Hearts: Landscape. I cut the inner layer out of kraft cardstock twice, and the scalloped layer out of white cardstock. I then stamped and colored the 3 kitties and the sentiment "Merry Catmas".
I used one of the kraft layers I cut, as a stencil, to ink blend the hearts with Merman Lawn Fawn ink. I then stamped some of the tiny snowflakes with the same ink.
Next, I added glitter to the kitties. On the Christmas lights I used Platinum Distress Glitter Dust, everything else is Prisma glitter. I also used a fine tip black pen, to enhance the cord of the Christmas lights, and a black glaze pen to dot the kitties eyes. I added a few white hairs to Gus's ears with a white gel pen.
For the sentiment, I colored with a gradient using R39, R29, and R35. I then added Prisma Glitter to the bottom of the letters with a Quickie glue pen.
I mounted everything with 3M foam tape onto a slimline card which measures 3.5″ x 8.5″ and will fit perfectly into a #10 business envelope.
Another fun thing about this set is each kitty has a front and back, so you can make a spinner card, or have them poking through a window. I decided to just keep it simple today, I wanted all three of my boys peeking through the hearts. I plan on sending this card to my Dad, since we can't be together for Christmas I am sending him a fun package, stocking, cookies, etc and this card will be from the kitties to him.
Be sure to see below the links to some of my crafty friends who are sharing inspiration too! I also have details about the giveaway!
Inspiration
Be sure to go visit my crafty friends for more inspiration! I am so excited that they are joining me this year to bring you more inspiration and to remind you to work on those holiday cards all year long!
Giveaway Details
This giveaway is open from December 17, 2020, to January 20, 2020, 5p ET.
Prize: Lawn Fawn Glitter pen, 6 Lawn Fawn enamel pins, Jennifer McGuire Share Handmade Kindness enamel pin
There will be 1 winner!
open to US residents only (periodically I will limit where I am shipping, as I pay for shipping, and have mailed several international prizes)
The winner will be announced, right here on this post. I will also email the winner.
1 winner will randomly be chosen from the eligible comments
I must get a reply from the winner with their mailing address within 48 hours or I will draw another winner.
In order to be eligible to win a prize you must be doing the following:

Leave a comment with a link to your Holiday cards you make this month
Bonus: Use the hashtag #GetCrackingOnChristmas on Instagram and/or Facebook
Supplies Used:
Supplies I used are linked below. Click on the picture and you will be taken to the product. I use affiliate links when available which means if you make a purchase I get a small commission at no extra cost to you. Thank you for your support!
""

Simon Says Stamp, Feline Like Christmas Spinners
Shop at:
SSS

Lawn Fawn, scalloped slimline with hearts: landscape
Shop at:
SSS | LF

Lawn Fawn, Chili Pepper Cardstock
Shop at:
SSS | LF

Lawn Fawn, Kraft Cardstock
Shop at:
SSS | LF

Therm O Web, Purple Tape
Shop at:
SSS

Lawn Fawn Merman Premium Dye Ink Pad Fawndamentals Lf1088
Shop at:
SSS | LF

Copic Markers
Shop at:
SSS

Lawn Fawn, 80 LB WHITE 8.5 x 11 Inch Cardstock
Shop at:
SSS | LF

Misti Precision Stamping Tool 2.0
Shop at:
SSS | LF

Lawn Fawn Glue Tube
Shop at:
SSS | LF

Rainbow Glue Tube Holder
Shop at:
Shurkus

Mint Glue Tube Holder
Shop at:
Shurkus

Glue Tube Holder
Shop at:
Shurkus

Sakura Quickie Glue Pens
Shop at:
SSS

Lawn Fawn Prisma Glitter
Shop at:
SSS | LF

Sakura Black Glaze Gel Pens Pen 2 Pack 38495
Shop at:
SSS

Tim Holtz, Distress Glitter Dust Vintage Platinum
Shop at:
SSS | Ranger

Fiskars Microtip Scissors
Shop at:
SSS

3M Scotch DOUBLE-SIDED FOAM TAPE Permanent

Shop at:
SSS | LF

Mermaid, Stamp Shammy Holder
Shop at:
Shurkus

Mermaid Mint Shammy Case
Shop at:
Shurkus

Lawn Fawn, Starry Shammy Case
Shop at:
SSS | LF

Altenew, Mini Blossom Die Cut machine
Shop at:
SSS

Spellbinders Platinum
Shop at:
SSS