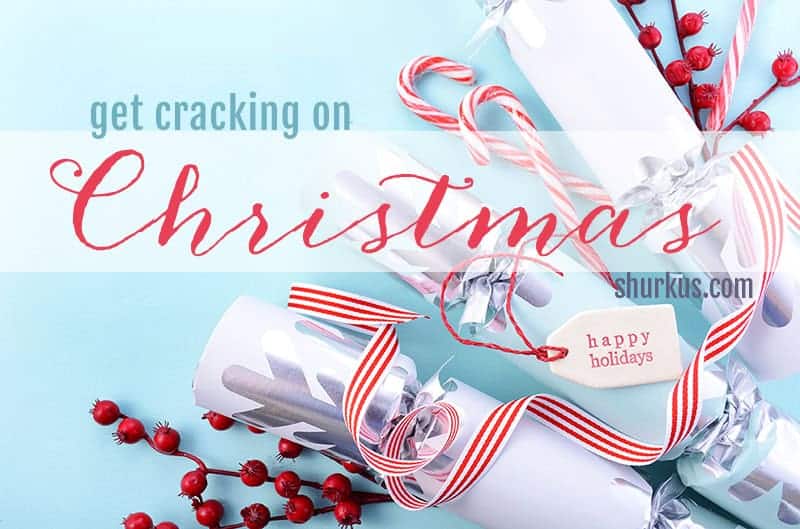 Have you heard of my Get Cracking on Christmas Series? Well, this year is going to bigger and better and more inspiring than ever!  So here are the details:
Let's be honest.
November rolls around and we say to ourselves "man I should've started making holiday cards A LOT sooner."
or
"I have so many wicked cute holiday sets that I haven't even had a chance to play with yet."
I am going to guess that most of you who are reading this post fall into one if not both of those scenarios. So for the past 2 years, some of my crafty friends and I have been challenging each other to create at least one-holiday card a month. I mean, that would give me 12 handmade holiday cards to send out at the end of the year and that's better than none.
We are 6 months away from Christmas!!
This year I am excited to have MORE crafty friends participating with me AND because it is Christmas in July EVERYONE is offering GIVEAWAYS! More details below GIVEAWAYS closed
On the third Thursday, we are going to post a holiday creation and hopefully inspire you to create one too!
If you do end up making any please leave a comment below with a link, or tag me on instagram so I can see! We are also going to use the hashtag #getcrackingonchristmas. This is how I will choose the winner, more about that at the end of this post.
We can do this! We can create holiday cards all year, and be a little bit more prepared for the holiday season!
If you do end up making any please leave a comment below with a link, or tag me on Instagram so I can see! We are also going to use the hashtag  #getcrackingonchristmas
Get Cracking: Gone to the Beach
If we have to make Christmas cards in July, to get ahead of the game- why not make BEACHY Christmas cards!! Ha! This is what I envision Santa doing right after all his hard work Christmas Eve.
Also, I want to make a sand snowperson SO BAD!!!
The images and sentiment are from Sun Soaked Christmas, by Newton's Nook. They were so fun to color and use in this scene. All the scene building elements are from Lawn Fawn, and linked below.
You might be wondering why my beach has a fence and grass? Well, that is typically what you see at a Cape Cod beach. We of course don't have Palm trees, but we have dune grass and fences. I had fun recreating a Cape Cod beach for Santa to have fun at.
Using a black glaze pen on his sunglasses, and touches of Prisma glitter here and there with a Quickie glue pen.
Giveaways
Ok, this month is a bit different- ALL of my crafty friends are offering a GIVEAWAY on their site, or instagram!! A true Christmas in July! Be sure to go visit them for more inspiration and more chances to win. I am so excited that they are joining me this year to bring you more inspiration and to remind you to work on those holiday cards all year long!
My Giveaway Details
This giveaway is open from July 17, 2020, to July 31, 2020, 10p ET. (please note the shorter time frame this month) CLOSED
Prize:

Honey Bee Stamps stamp set
Gina K stamp set
Newton's Nook stamp set
Newton's Nook die
2 different dies from Concord & 9th
MSE stamp set
Winnie & Walter stamp set
Ranger Stickles
Dress My Craft Sequins
Studio Katia embellishments

There will be 1 winner!
Winner will be announced, right here on this post. I will also email the winner.
1 winner will randomly be chosen from the eligible comments
I must get a reply from the winner with their mailing address within 48 hours or I will draw another winner.
Due to the size, and weight of this prize this one is open to US residents only.
In order to be eligible to win a prize you must be doing the following:

Leave a comment with a link to your Holiday cards you make this month
Bonus: Use the hashtag #GetCrackingOnChristmas on Instagram and/or Facebook
WINNER
Congratulations Wendi!
Supplies Used:
Supplies I used are linked below. Click on the picture and you will be taken to the product. I use affiliate links when available which means if you make a purchase I get a small commission at no extra cost to you. Thank you for your support!
""

Newton's Nook, Sun Soaked Christmas
Shop at:
SSS

Lawn Fawn, Little Picket Fence Border
Shop at:
SSS | LF

Lawn Fawn, Stitched Simple Wavy Borders
Shop at:
SSS | LF

Lawn Fawn, Grassy Hillside Borders
Shop at:
SSS | LF

Lawn Fawn, reveal wheel circle add-on frames: flower and sun
Shop at:
SSS | LF

Lawn Fawn, Stitched Hillside Borders
Shop at:
SSS | LF

Lawn Fawn, Puffy Cloud Borders
Shop at:
SSS | LF

Tim Holtz, Mermaid Lagoon Distress Ink
Shop at:
SSS | Ranger

Therm O Web, Purple Tape
Shop at:
SSS

Lawn Fawn, Kraft Cardstock
Shop at:
SSS | LF

Lawn Fawn, Lobster Dye Ink Pad
Shop at:
SSS | LF

Hero Arts, Misti Mini Black
Shop at:
SSS | HA

Picket Fence, Magic Brushes
Shop at:
SSS | LF

Simon Says Stamp, Set of 5 Rainbow Pack BLENDER BRUSHES
Shop at:
SSS

Lawn Fawn, 80 LB WHITE 8.5 x 11 Inch Cardstock
Shop at:
SSS | LF

Lawn Fawn Glue Tube
Shop at:
SSS | LF

Rainbow Glue Tube Holder
Shop at:
Shurkus

Glue Tube Holder
Shop at:
Shurkus

Lawn Fawn, Watercolor Wishes 12×12 Paper
Shop at:
SSS | LF

Copic Markers
Shop at:
SSS

Fiskars Microtip Scissors
Shop at:
SSS

Lawn Fawn Prisma Glitter
Shop at:
SSS | LF

Sakura Quickie Glue Pens
Shop at:
SSS

3M Scotch DOUBLE-SIDED FOAM TAPE Permanent

Shop at:
SSS | LF

Lawn Fawn Stamp Shammy
Shop at:
SSS | LF

Mermaid, Stamp Shammy Holder
Shop at:
Shurkus

Lawn Fawn, Starry Shammy Case
Shop at:
SSS | LF

3M Scotch PINK ATG ADVANCED TAPE GLIDER 0.25 Inch Adhesive Glue Gun
Shop at:
SSS

Lawn Fawn, Really Rainbow Scallops 12×12 Collection Pack
Shop at:
SSS | LF

Lawn Fawn, Spiffy Speckles 12×12 Collection Pack
Shop at:
SSS | LF

Tombow, Mono Adhesive Dots Dispenser – Permanent
Shop at:
SSS | LF

Tombow, Mono Adhesive Dots Refill Cartridges – Permanent
Shop at:
SSS | LF

Altenew, Mini Blossom Die Cut machine
Shop at:
SSS

Spellbinders Deep Sea Die Cutting and Embossing Machine
Shop at:
SSS